CCGS Mailing Address:
Cleveland County Genealogical Society
P.O. Box 6176
Norman, OK 73070
CCGS Library Location:
1119 East Main
Norman, Oklahoma
405-701-2100
Phone:
(405) 701-2100
E-mail:
Facebook:
Hours of operation:
The Cleveland County Genealogical Society Library and Archives is open to the public Tuesdays and Thursdays from 1-5 p.m.
Note to Out-of-Town Visitors:
Occasionally inclement weather or unforeseen circumstances cause us to close our library, so please call ahead to be sure we're open the day you plan to visit: (405) 701-2100 Plus, if we know you're coming and what you're working on, we can already have materials pulled for your use!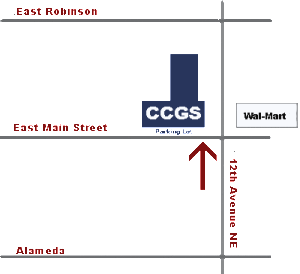 Directions to Library:
In Norman, from the intersection of East 12th and Main, go west on Main and turn into the first street on your right. Continue to the right just past the first building — you'll see a basketball goal and sign on the building that says Community Services Building. Park anywhere you can find a spot.
We're in building A. The CCGS entry is the walkway between the basketball goal and CSBI building. Look for our sign: