11-15-2022 – November 15, 2022 CCGS Society meeting and lecture
Linda Mann, a Daughter of the American Revolution (DAR) Consultant Genealogist and a member of several lineage societies, will speak at the CCGS Monthly meeting on Tuesday, November 15, 2022.
The meeting will be at the Norman Central Library (3rd floor, Lowry Board Room.) at 6:30 p.m.
Her topic will be Chasing Women. This program will present sources for helping us search for records for our female ancestors and whack away at those brick walls. Please plan to attend.
Our next monthly meeting will be held in March 2023.
10-12-2022 – October 18, 2022 CCGS Society meeting and lecture
The October 18, 2022 CCGS Society meeting will again be an in-person meeting. Speaker Luann Sewell Waters will present the lecture "Carved in Stone: Gravestone Graphics and Cemetery Customs" for the first hour, starting at 6:30 p.m. The second hour will be a celebration of the 43rd Founding Day Event, in honor of the 1980 establishment of the Cleveland County Genealogical Society. Treats and punch will be served.
The meeting and lecture will be held in the Pioneer Room on the third floor of the Norman Public Library Central. Doors will open at 6:00 p.m. Seating is limited.

9-18-2022 – In-Person CCGS Society meetings to resume!
The September 20, 2022 CCGS Society meeting will be held – IN PERSON! – at the Norman Public Library Central, in the Lowry Boardroom on the third floor, at 6:30 p.m. We will have punch and cookies, and will trade stories about genealogy.
We are working on recruiting a speaker for the October 18, 2022 meeting. It will also be in the Norman Public Library Central, but may be in a different meeting room.
Please join us for the September meeting, to celebrate starting meetings in-person again!
5-16-2022 May 17, 2022 CCGS Society meeting
Sherry Furber from the Mormon Church will be our speaker. Her topic will be the newly released 1950 census. She will be able to answer questions about both how to put it to use in your research, using Ancestry.com, and how to assist with the group project on FamilySearch to improve the accuracy of the computer software digital transcription of household names and details.
Nominations for officers for the 2022-2023 year will be announced.
The meeting will be held on Zoom, so if you didn't get a Zoom invitation, please contact Jane Harris.
If you are not a member and would like to attend, please send an email to ccgs@csbi.org indicating your interest and requesting the Zoom link.
4-14-2022. CCGS April 19 Society Meeting to be Informal
The April 19, 2022 meeting of the Society at 6:30 p.m. will be an informal meeting. We will choose the Nominating Committee for the 2022-2023 officers, but will then have informal conversation. The theme will be favorite family recipes or traditions, but all questions and narrations will be welcome! This type of meeting will allow us to exchange ideas, like we used to do before and after meetings when we used to meet in person!
If you are a member and do not receive a Zoom invitation, please contact Jane Harris.
If you are not a member and would like to attend, please send an email to ccgs@csbi.org indicating your interest and requesting the Zoom link.
12-14-2021. The December 2021 issue of the CCGS Newsletter has been posted.
6-1-2021. 2021 Annual Society Meeting preview
The 2021 Annual Society Meeting will be held on Tuesday, June 15, 2021 at 6:30 p.m., via Zoom. Invitations for the Zoom meeting will be sent out by e-mail. If a member paid-up for 2020 or 2021 does not receive the link before June 11, please contact us at (405) 701-2100. Only 2021 paid-up members will be allowed to vote.
The slate of officers submitted by the Nominating Committee will be voted on and installed in the Annual Meeting. A vote on changes in the Bylaws will also be taken.
The 2021 slate of officers approved for nomination for the CCGS Board are:
President: Sarah Pool
Vice President: Mae Cox
Secretary: Jane Harris
Treasurer: Mike McCurtain
Member at Large: Betty Hall
Member at Large: Jeffrey Wilhite
Member at Large: Diane Lewis
Past President: Jean McCracken
The Bylaws are being changed to reflect the transfer of the majority of the Society's Library materials to the Norman Public Library in 2019. The changes remove references to the Library in the Mission, Committees, and personnel. In addition, the First and Second Vice-Presidents were combined into one Vice President. A copy of the proposed Bylaws has been mailed to all members by U.S. mail.
6-1-2021. June 2021 Board meeting date moved to June 7, 2021 at 1:30 p.m. via Zoom.
The June 2021 Board meeting date has been moved to Monday, June 7, 2021, at 1:30 p.m. due to several members conflicting schedules. It will be held via Zoom.
5-30-2021. Ira Jean McCracken
September 24, 1933 – May 19, 2021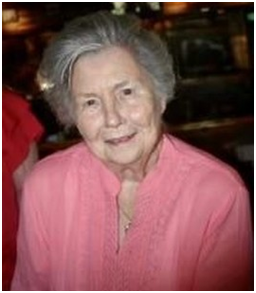 With great sadness we report the death of Jean McCracken, our CCGS President, who died in Norman on Wednesday, May 19, 2021.
Jean has been president of the Cleveland County Genealogical Society since July, 2016. She was planning to drop out next year because of her health.
Jean was overseer of the transfer of a large portion of the CCGS Library collection into the Genealogy collection of the brand-new Norman Public Library Central. Working with our library volunteers during the transition, she saw to it that any materials that did not make the cut into the Public Library were offered to other Genealogy groups, including the Oklahoma City Genealogical Society, the Oklahoma Genealogical Society, the Oklahoma History Center, and other groups in central Oklahoma.
Jean McCracken has been a volunteer for the Cleveland County Genealogical Society for many years, beginning somewhere in the years our Genealogical Library was established in the location on North Flood Street. She was the little lady who was always there—as much as three afternoons a week—working on a project, or helping our Society visitors search for an ancestor.
We lost more than we know, at Jean's death. She had a tremendous memory filled with the names of thousands of families who came to Oklahoma in the early years. Jean had a special relationship with our newest library volunteers. When they first volunteered, she quietly noted their interests, and at an appropriate time would assign a special project to them. Her first assignment to this writer was directed to an early Query file. We had been receiving queries from individuals seeking information about relatives who once lived in Cleveland County. One member had volunteered to manage this job. This volunteer had indexed the names on this file, perhaps when we moved this service to a different venue. Having used these files extensively, Jean knew there were more names that needed to be included. Jean asked me to go through the files again, and to add any family names that were not recognized in the first index. I worked for several weeks on this project. I must have passed the test, because Jean continued to find projects for me.
I can recall one incident in the library that is so very typical of Jean. It was early afternoon. Jean was already working at her computer. A lady entered the library. She was greeted by another volunteer, who proceeded to work on the visitor's problem.
Jean was still working at the computer, but soon she was on Research mode. After a few minutes, in her quiet voice, Jean asked the visitor a pertinent question. Then she would proceed to find useful information on the person being researched.
As editor of the CCGS Newsletter, I often asked Jean to help me find a topic for a future article, and she almost always found something for me. Often it was a photograph or a clipping from some newspaper. I could always figure that there would be more to the story. Jean carefully challenged me to learn "the rest of the story." Only then would she critique my findings.
Jean also was responsible for transcribing many, if not all, of the genealogical records which are currently published in this newsletter, and which have been published in other ways by the Society.
Jean connected strongly to our organization's mission. In Jean's own words, when asked why she spent so much time and energy getting to know Cleveland County when none of her ancestors lived here, "I volunteer here, because this is where I am. There are people in many countries where my ancestors located, who are doing the same work that I do. They are collecting their local records and creating indexes which will be of benefit to me. I am paying it forward to those unknown individuals."
Her impact on this Society will be felt for many years into the future. We will be remembering her contributions as we return to whatever is normalcy after what seems like a lifetime, but is actually only a long year and counting, dealing with Covid-19.
Obituary from June 2021 CCGS Newsletter, by Mary Lewis.